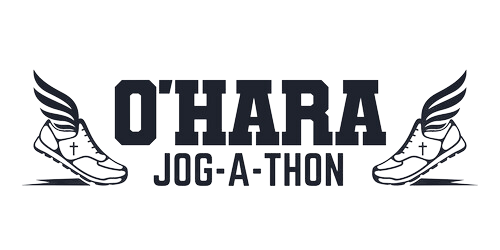 O'HARA'S 2023 JOG-A-THON
Welcome to the launch of our 2023 O'Hara Jog-A-Thon!
This year our Jog-A-thon will be held over two days:
Middle School Jog-A-Thon and Color Blast on Thursday, April 27
Pre-School - 5th Grade Jog-A-Thon on Friday, April 28
Running times will be announced at a later date. We are planning for all students in Pre-Kindegrarten - 8th grade to run for approximately 1 hour. PreSchool will once again run their own Jog-A-Thon in the gym, separate from the older students. We are excited to welcome all parents to join us for our Jog-A-Thon fun!
---
PLEDGESTAR REGISTRATION & DONATIONS
We will be using Pledgestar again this year to coordinate our Jog-A-Thon fundraising! Pledgestar is a fantastic web-base fundraising system that makes requesting pledges and collecting donations secure and easy.
O'Hara's Jog-A-Thon helps bridge the gap between our operating cost and tuition cost. Our 2023 goal is $150 per student. This is not a required amount, but is a goal the school is aiming for!
To complete your Pledgestar registration:
Click the REGSTER HERE button below
Click "Not registered for this year's event."
Enter parent name and email address, then click "Submit."
Follow the instructions on-screen to "Register Joggers."
When you complete your registration, the system allows you to email pledge requests to your family and friends, and allows them to make secure credit card donations online. You get notified each time a pledge is made, so you and your student(s) can track pledge progress online.
---
JOG-A-THON T-SHIRTS
Please fill our the size form below as soon as possible so we can be sure to order you child's Jog-A-Thon t-shirt in the correct size in time for the event. Every student receives a Jog-A-Thon t-shirt courtesy of O'Hara. If you do not fill in the form, we will order their Jog-A-Thon shirt in the same size as their Gospel t-shirt.
---
MIDDLE SCHOOL COLOR BLAST
Our plan is to hold the Middle School Color Blast at the end of their Jog-A-Thon on Thursday, April 27. If it happens to rain that day, we will still hold the Jog-A-Thon, but postpone the Color Blast to a later date with sunnier weather. Middle School students must participate in the Jog-A-Thon in order to participate in the Color Blast.
---
SPONSORS
Interested in sponsoring this year's Jog-A-Thon? Please click the button below for this year's sponsorship opportunities. If you have any questions about being a sponsor, please contact Michelle Meador.
---
We are so excited to see all of our students on the track again this year If you have any questions about the Jog-A-Thon, please contact Michelle Campbell.